Egypt Air flight records the longest 787 delivery flight using sustainable fuel
Egypt Air makes history with the operation of the longest biofuel trans-Atlantic flight to Cairo
Egypt's national carrier, EgyptAir has successfully operated its longest ever biofuel flight with the delivery of its fifth Dreamliner 787 from the United States to Cairo.
Flight MS3330 used a 30% to 70% ratio of biofuel to normal fuel. The plane is the fifth of six ordered by Egypt Air through a long-term lease from Dublin-based AerCap.
AerCap is the world's largest customer of the 787 aircraft, with a total of 114 owned, managed and on order.
"Our cooperation with our partners in success marks a big step in the development of a renewable jet fuel industry in Cairo, as we all have agreed on putting sustainability first – it is a project we are really proud to be part of as we look at ways to reduce carbon emissions across our operations," said Ahmed Adel, chairman and CEO of Egypt Air Holding Company.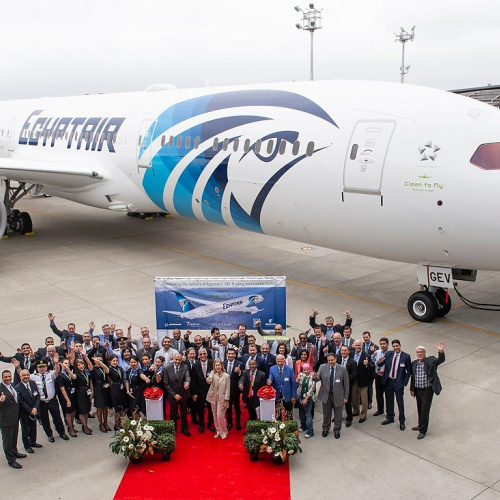 "We are committed to the sustainable growth of our airline and supporting commercial aviation's efforts to protect the environment," he added. "The 787-9 Dreamliner is a great fit for our network and provides our customers with a responsible choice for air travel."
The 787 Dreamliner was designed for superior fuel efficiency and environmental performance. Its lightweight composite materials, highly-efficient engines, and other aerodynamic improvements reduce fuel use and emissions by 20 to 25 percent compared to the airplanes it replaces.
Egypt Air is the first operator in Africa to use a new Boeing program that offers operators the option to use biofuel on delivery flights.
Sustainable aviation fuels have been shown to reduce carbon dioxide emissions by up to 80 percent through its lifecycle. The 5,925 nautical-mile (10,973 km) trip flight from Seattle to Cairo represents the longest 787 delivery flight using sustainable fuel.
"We are proud to be part of EGYPTAIR's first flight using Sustainable Aviation Fuel, and to assist with a smooth entry into service of all six of the airline's new Boeing 787 Dreamliners," said John Kelly, senior vice president, customers, Rolls-Royce.
"EGYPTAIR is Egypt's flagship airline and its selection of our Trent 1000 TEN engine is a huge endorsement for the Trent engine family and perfectly demonstrates The Power of Trent. We also look forward to enhancing the availability of these aircraft with our TotalCare service plan," he added.
EGYPTAIR used a biofuel produced by World Energy at its refinery in Paramount, Calif., the first facility designed to make renewable jet fuel on a commercial scale.
Made from agriculture waste, the fuel is certified for commercial use and can be blended with conventional jet fuel without modifications to the airplanes, engines or fueling infrastructure.